For the past few months, hybrid and virtual events have been a part of our everyday lives. When it comes to virtual audience technologies, we tend to confuse them with the video conferencing platforms we use daily.
Like many event planners, you might wonder how different they are from Zoom or Google Meets. Let's talk about the differences and the benefits to using virtual audience technologies.
The perfect Mosaic
A virtual audience solution enables the display of virtual participants' webcams to make everyone visible, as they would be in an in-person audience. The Sparkup technology for managing virtual audiences is able to detect when a participant's camera is paused or disabled, unlike ZOOM for example: no black screen, no empty seat. The virtual audience solution is dynamic:

It displays faces on the entire screen
Participants are automatically rotated every fifteen seconds, which allows everyone to be visible and recognizable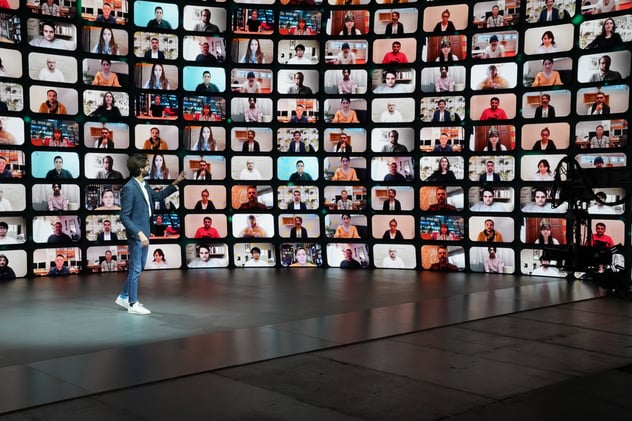 Audience Interaction
During hybrid events, you know that dozens, hundreds of people are connected to join the event. However, it is impossible to read every single message posted on the live chat, you can't see them physically or feel their energy, their reactions. We all know how important non-verbal feedback is for a speaker or host.
Sparkup allows your virtual audience to interact in real time:
By sharing their emotions live, with the help of emojis and the "applause" function
By being able to draw the host's attention, thanks to the "raise a hand" function
By being able to speak live: you can zoom on the image of the participant that wishes to speak, which enables you to have an almost face-to-face live conversation
DDMC Agency, Delaware, Sparkup
Video moderation
Managing a large audience can be a challenge. You have to monitor everything to avoid putting inappropriate actions or behaviors from the audience on display behind the speaker.
Sparkup gives you tools to manage your audience and to decide who is on display on the virtual mosaic and who isn't at every moment.
Microphone management
We have all experienced online video meetings using standard video conferencing platforms, during which everyone's microphones are on at the same time: nobody can hear anything, and the meeting turns into chaos.
By using appropriate tools, you can manage your audience by giving the floor to someone who draws your attention ("raise hand" function), enabling your speaker to be heard by everyone.
Limit on the number of participants
With standard platforms, it is impossible to display more than 12 thumbnails/people at once, which is fine in the case of a small gathering.
During big events, you will have to use a professional audience interaction platform in order to make everyone visible: Sparkup Mosaik allows you to display as many participants as needed.
During any type of event, communication between participants and speakers is the key to success.
Pernod Ricard, Sparkup
Wrap up
To sum up, virtual audience technology, more than standard video conferencing tools, allows you to:
gather all of your participants, as many as you want, wherever they are
offer high-quality interactions
keep control of everything that is going on during your event
By adapting the tools you are using to your events, you can guarantee your participants a quality experience and help them nurture their sense of community belonging.