Our product team works tirelessly to improve your experience on the platform and make it even easier, more fun and more efficient to use. Today, we present you with new and improved features to make your meetings and events even more engaging with Sparkup.

New activity: Assessment
Have a powerful tool to assess the knowledge and soft skills of your participants. During your trainings, exercises, or role-playing games, you will be able to rate your participants at any time.
The Assessment is therefore the very first participant evaluation activity to be conducted directly by the facilitator/trainer.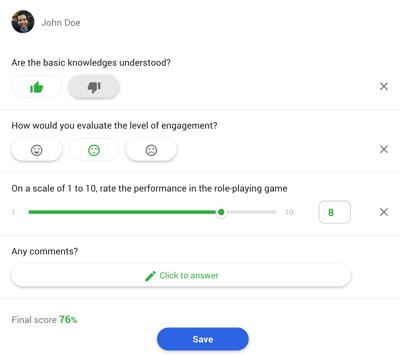 4 types of question are available:
Rating - Rate on a scale of your choice (e.g. 1 to 10),
For/Against - Validate or invalidate a given criterion,
Reaction - 3-state criterion 😀😐🙁,
Open-ended question - Qualitatively evaluate your participant.
Change your ratings at any time and get live access to the overall and individual results!
The interface is evolving!
The Cast, the screen that allows you to broadcast the results live to your participants, is evolving and is now called Presentation view. We wanted to simplify the use and the handling of Sparkup.
In order to do so, you will now find this Presentation view in the top left corner of your window, available as soon as you open your session.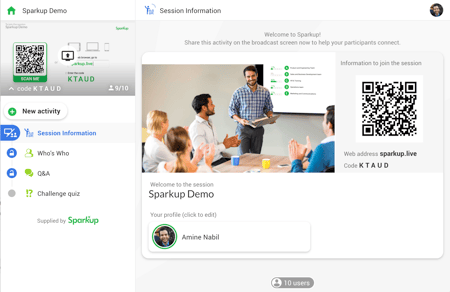 So you have a constant viewing of the results, and you can very simply enlarge this view or open it in a new window to project the results on a larger screen.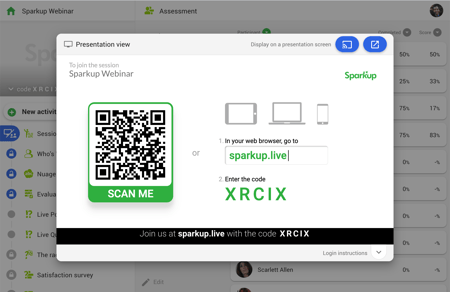 To complement this change, we have also redesigned the header of our application with:
The button Play an activity becomes Present,
Your profile is now accessible at the top right corner of your interface,
To exit the session, use the top left button .
Quiz & Survey arrive on your animation interface with new features
Quiz and Survey are among the most frequently used activities.
To improve your use of Sparkup, these 2 activities are now available directly in your animation interface. You will now be able to create, manage and animate your quizzes and surveys without going through the Studio!
In addition, these 2 activities are equipped with new functionalities:
Edit questions and answer choices on the fly,
Edit the parameters of your questionnaire,
Reorder your questions,
Reset the results.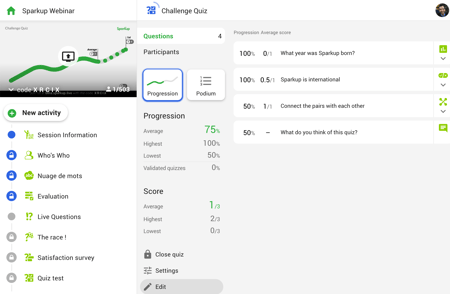 Other changes
Take part in Brainstorm, Question Wall & Wordcloud
It is now possible for the Sparkup facilitator to submit ideas, questions or words in the Brainstorm, Question Wall & Word Cloud activities!
A great way to set the tone, break the ice or inspire your participants.

In addition, the interfaces of these 3 activities have been slightly reworked to ensure a consistent and simplified graphical consistency in Sparkup.
Studio - category names
To simplify the understanding of the Studio, we have renamed the 3 tabs to: Scenarios, Results, Participants.

And more optimizations to continue to make your use unforgettable!😉