The countdown is on! On February 23*, 2021, your Sparkup interface will get a brand new look and will offer some new features to improve your animation experience in meetings, trainings or events. Check out the changes and improvements coming to your Sparkup account in a few days!

Integrate Microsoft Teams and Webex with Sparkup
We are very pleased to announce that Sparkup is now compatible with Microsoft Teams and Webex.
In a few days, you will be able to integrate Sparkup into your preferred tool to make your remote meetings 100% interactive.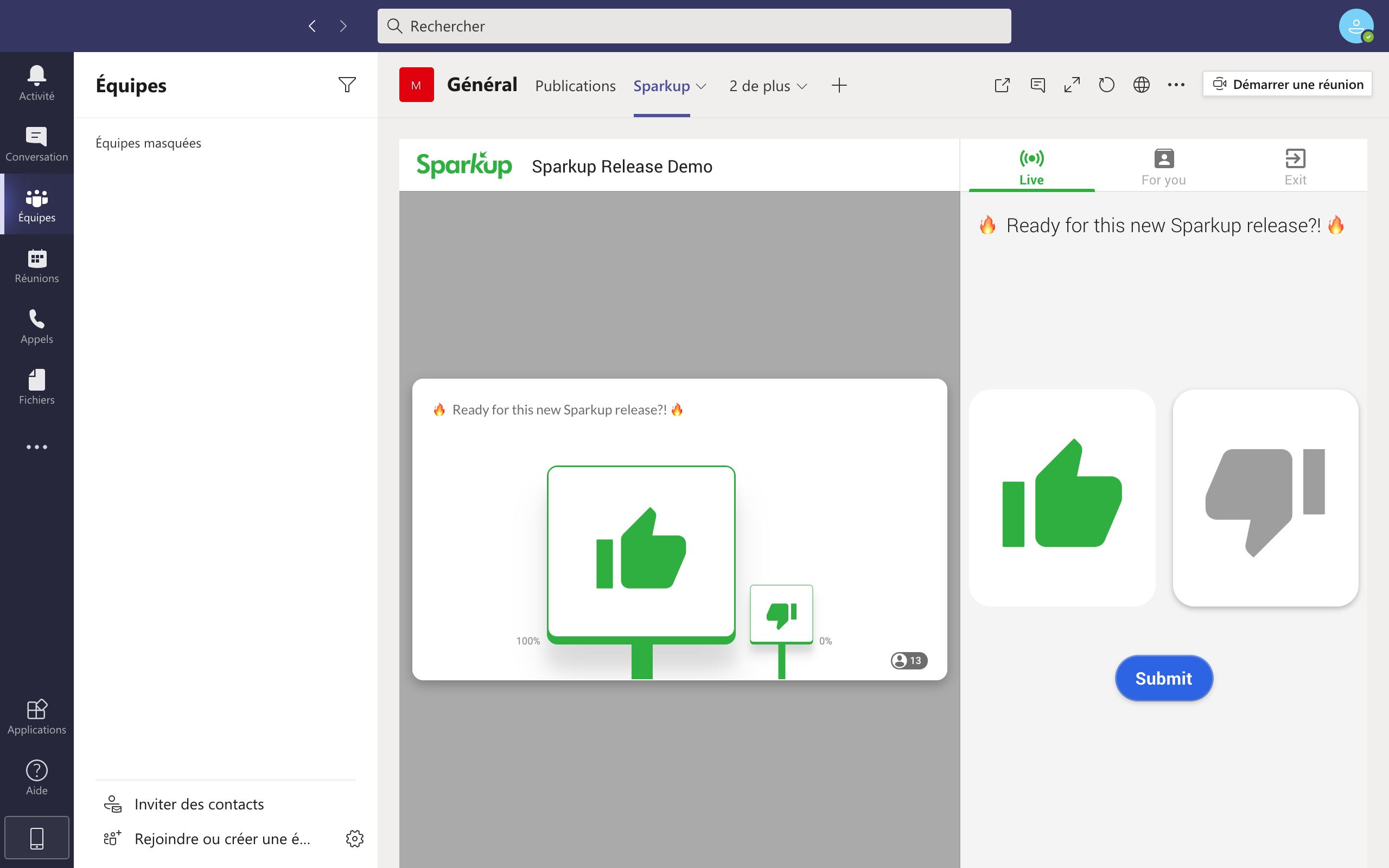 Sparkup embedded in Microsoft Teams
A redesigned presenter interface
With this update, your facilitator interface will be transformed, starting with the home page.
Previously, the home page only showed available scenarios and current sessions. Now the home page shows your current and past sessions. This allows you to access your session history easily.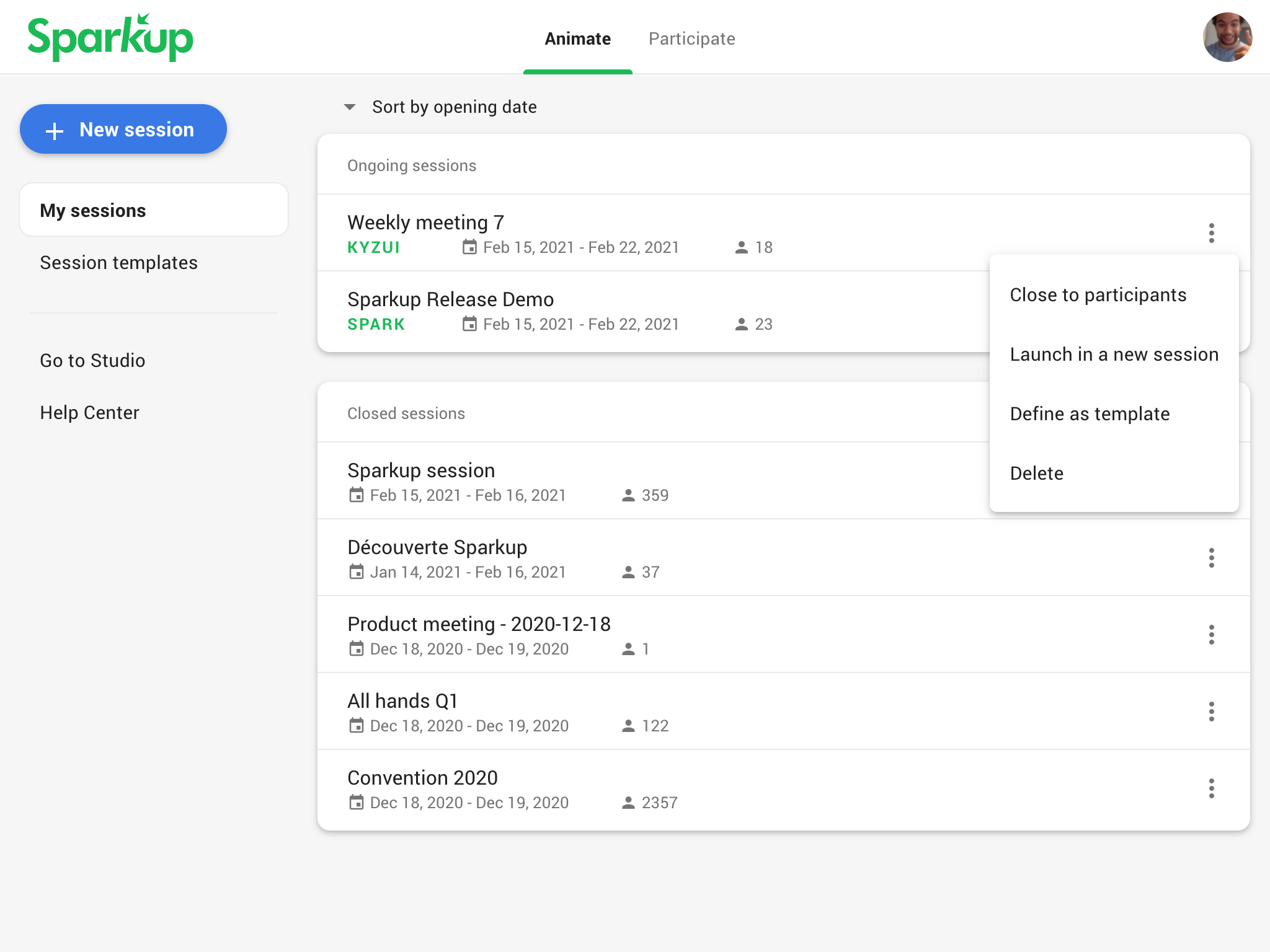 New presenter home page

The available scenarios become templates. At any time, it is possible to define a session as a template to be reused later. All your templates are accessible on the "Session templates" page where you can edit their name and description.
Important: modifying a template will no longer change an ongoing session (just go to this session to edit it).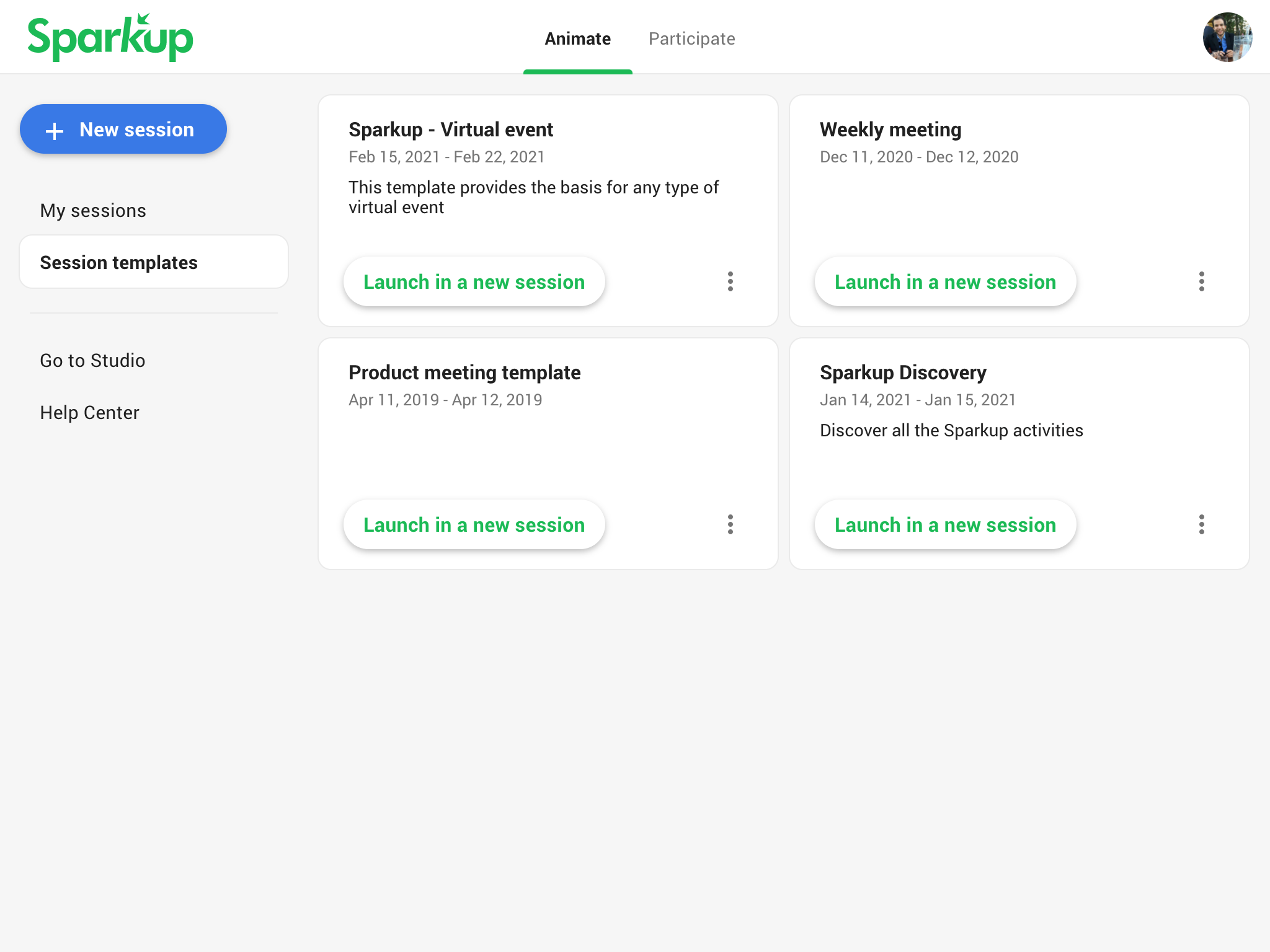 Session templates page

Another major improvement is that it is no longer necessary to use the Studio to create a session. You now have the option to create a session from one of your templates, a past session, or a blank template.
Moreover, it is now possible to join other sessions as a participant without having to change your account!

But we didn't stop there! From now on, you have full autonomy to manage your sessions and activities without going through the Studio.
Now you can at any time:
Add documents,
Create The Race! activity
Manage access to your sessions with authentications
With this update, we have improved the confidentiality of your sessions.
As a facilitator, you can now choose to enable or disable authentication for your attendees to keep control over who accesses your session.
If authentication is disabled, your participants can enter the session directly as an anonymous visitor.
If authentication is enabled, your participants must enter their credentials or create an account to join the session. This way, you will be able to identify each logged-in participant.
And to take it one step further, we are pleased to announce that your participants can log in with their Google Account!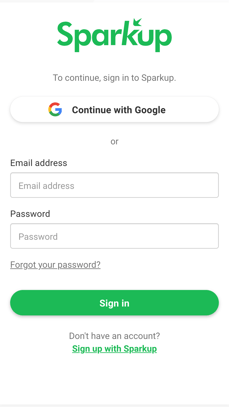 Connecting to a session with authentication
Setting up your meeting has never been this powerful
To further simplify the use of Sparkup, we've improved your session configuration options. Plus, no need to go through the Studio!
Session settings now offer 4 new tabs :
General -> to edit your session name, dates, code and participant authentication.
Share access -> to download the QR Code of your session (very useful if you want to share it in a slide) or generate the access link to your session (very useful if you want to share it in an email)
Appearance -> To customize the session with your logo and brand colors!
Export results -> To download all the results of your session in a useful Excel format.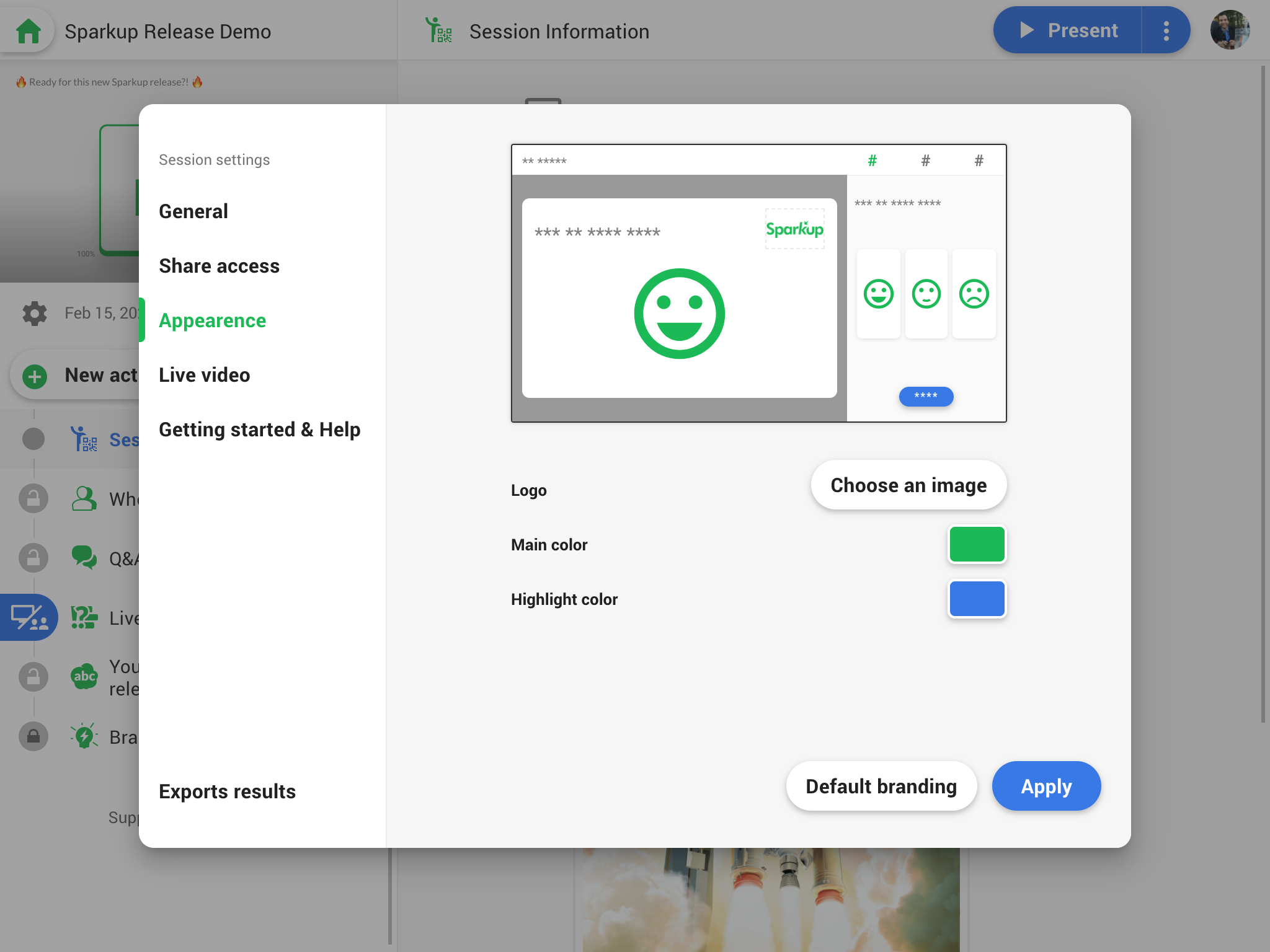 Session settings - Appearence
Sparkup Brainstorm takes it to the next level
You asked us, we did it: the character limit for brainstorming posts goes from 80 to 280 characters ! (Also valid for the Question wall)
It is also possible to modify or correct the text of an idea. You can conveniently make it more readable if necessary. (Also valid for the Question wall)
Again, we didn't stop there. We've improved the tag creation and attribution system to make it much faster and more intuitive.
Therefore, you have access to a complete interface to edit the text, color and order of your tags: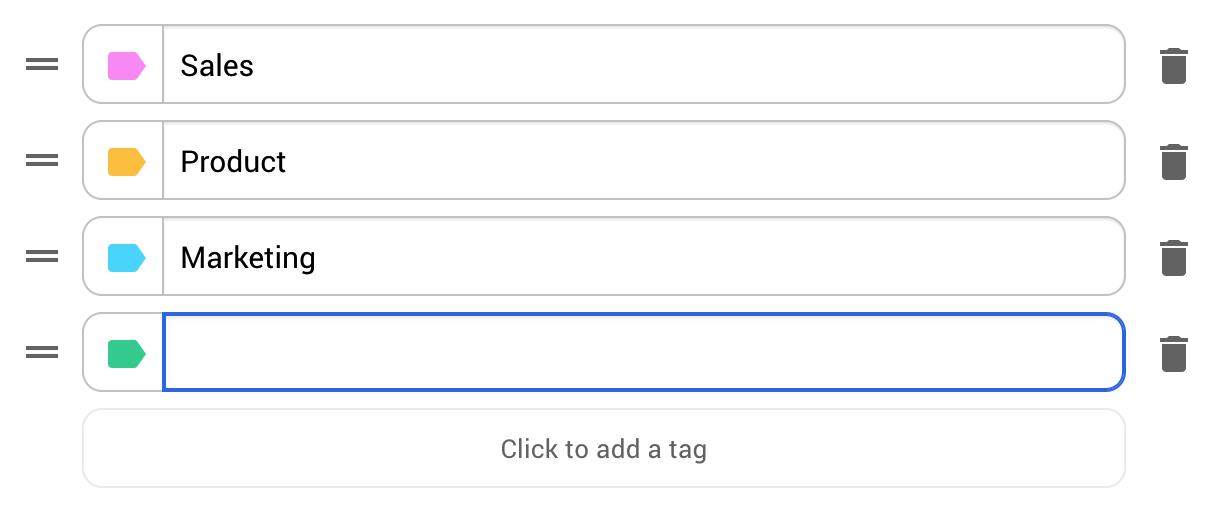 New interface to manage tags
We look forward to having you test these new features and hope to have as much feedback as possible. Contact us at @GetSparkup to share your feedback!
See you soon on Sparkup!
*available on March 2, 2021 for our US and Asia Pacific based Customers