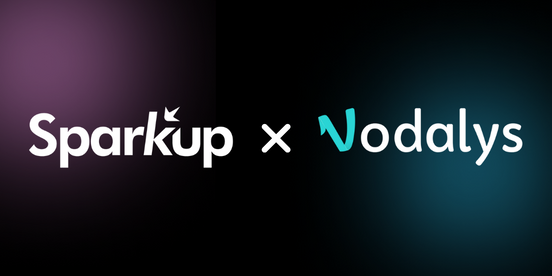 Paris - March 20th 2023 – Vodalys, a world leading provider of Enterprise Live Streaming Platform for hybrid or virtual live events is joining forces with Sparkup, the leading real-time engagement platform for virtual and hybrid events, to elevate its platform event further. With this collaboration, Vodalys is taking the viewer experience to the next level with the interactive and immersive video features of Sparkup to elevate Vodalys.player, their professional web live video portal.
Attendees are looking for experiences that make them an active part of the event and with Sparkup's interactive and immersive video features integrated into Vodalys platform, Vodalys users will be able to give attendees a front row, completely immersive seat, to watch livestreams and add like interactivity to shift passive viewing from active participation.
According to many studies, attention spans are eroding, so event professionals need to find new ways to capture and hold their audience attention. Through this new integration with Sparkup, Vodalys is determined to bring virtual events to life and make them memorable.
"We're thrilled to team up with Sparkup" said Dominique Henninot, CEO at Vodalys. "One of our greatest challenges as a leading Enterprise live streaming platform provider is offering the most engaging on-line experience to hybrid and virtual events participants. With Sparkup as an option to our solution we meet the challenge and, without any surprise, the new offer has been immediately adopted by several of our key European customers."
Sparkup is now integrated in the Vodalys catalogue and will be soon available through Vodalys Credit purchase.
"The best partners are those who, like Vodalys, have an inspiring vision that drives us to push the limits of our technology and keep innovating" said Vincent Bruneau, founder and CEO at Sparkup. "We love working with companies like Vodalys, our teams are both incredibly motivated to expand the limits of our imaginations, making this a win-win partnership that I am very excited about."
About Vodalys
Vodalys offers a comprehensive enterprise live streaming platform composed of a cloud-based video studio and a professional web video portal.
The solution empowers corporate hybrid and virtual events experience thanks to a complete set of advanced and unique features. It allows organizations to easily create and stream attractive live branded video contents, raise their brands awareness and significantly increase their audience engagement.
The platform is deployed by the most prestigious brands worldwide and many major public organizations for their internal or public events.
About Sparkup
Sparkup is a real-time engagement platform that helps organizations elevate audience experiences and maximize engagement. By combining interactivity and real-time immersive video, Sparkup has been used by leading organizations and brands to engage audiences on thousands of events and live experiences around the world - From business events and internal events, to entertainment events, and learning and development. As they continue to expand into new industries like sport and e-sport, media and more, Sparkup is leading the change in creating immersive and interactive virtual and hybrid experiences.
Visit sparkup.app for more information on their innovative technology, partnerships and more.