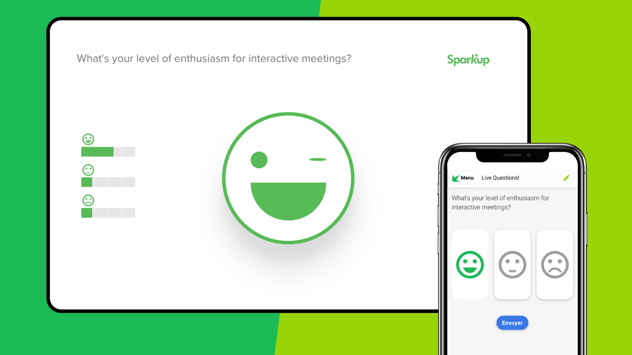 Read this article in French or Spanish

We are thrilled to announce the release of Sparkup 2, the new version that includes a major change in the platform: Live Questions!
New types of questions, easier ways to create activities, dynamic display and integrated gamification… Let us tell you everything about Sparkup 2!
More possibilities
Live Questions! now has a number of new features, such as new types of questions that help engage the audience and liven up interaction.
Reactions, 5-star rating, For or Against, True or False: measure the audience's satisfaction, ask the participants' opinion, test their knowledge… there are so many ways to use these activities.
For or Against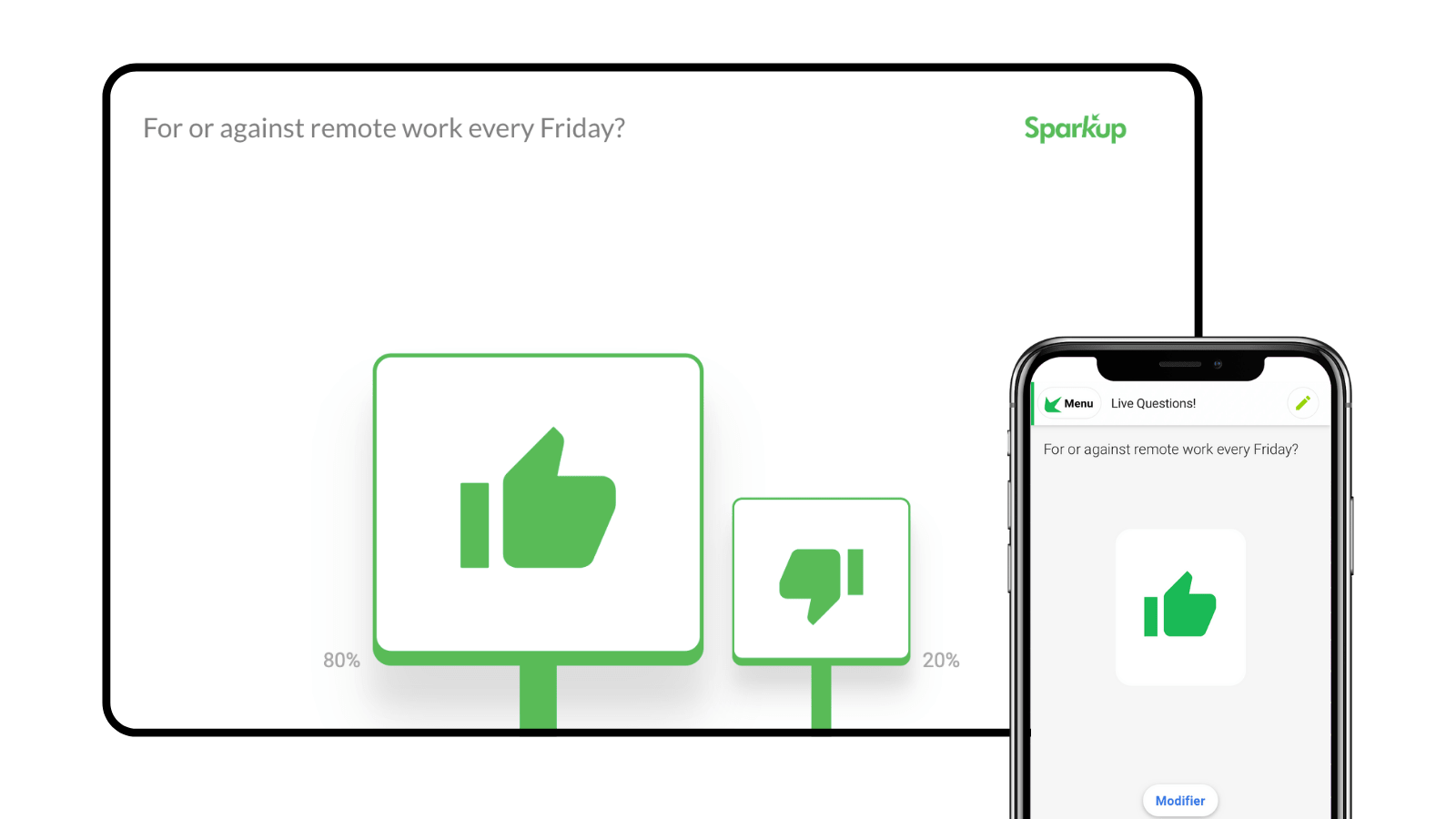 Ask your audience to vote for or against and find out their opinion in real time.
Reactions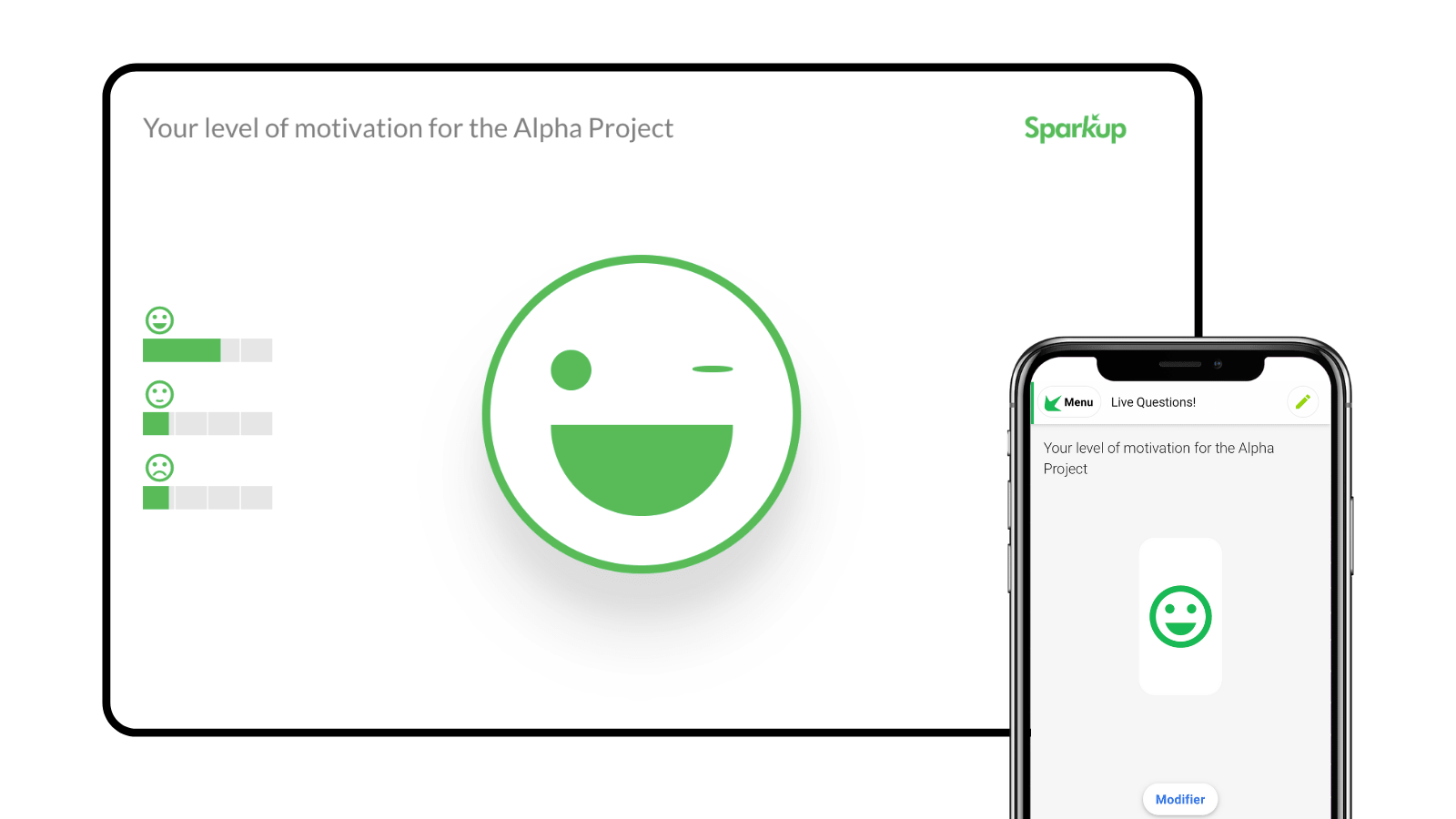 Reactions allows the participants to choose an emoji that reflects their mood. Ask them about how they feel, what is their level of trust, their motivation… Sometimes a picture is worth a thousand words!
True or False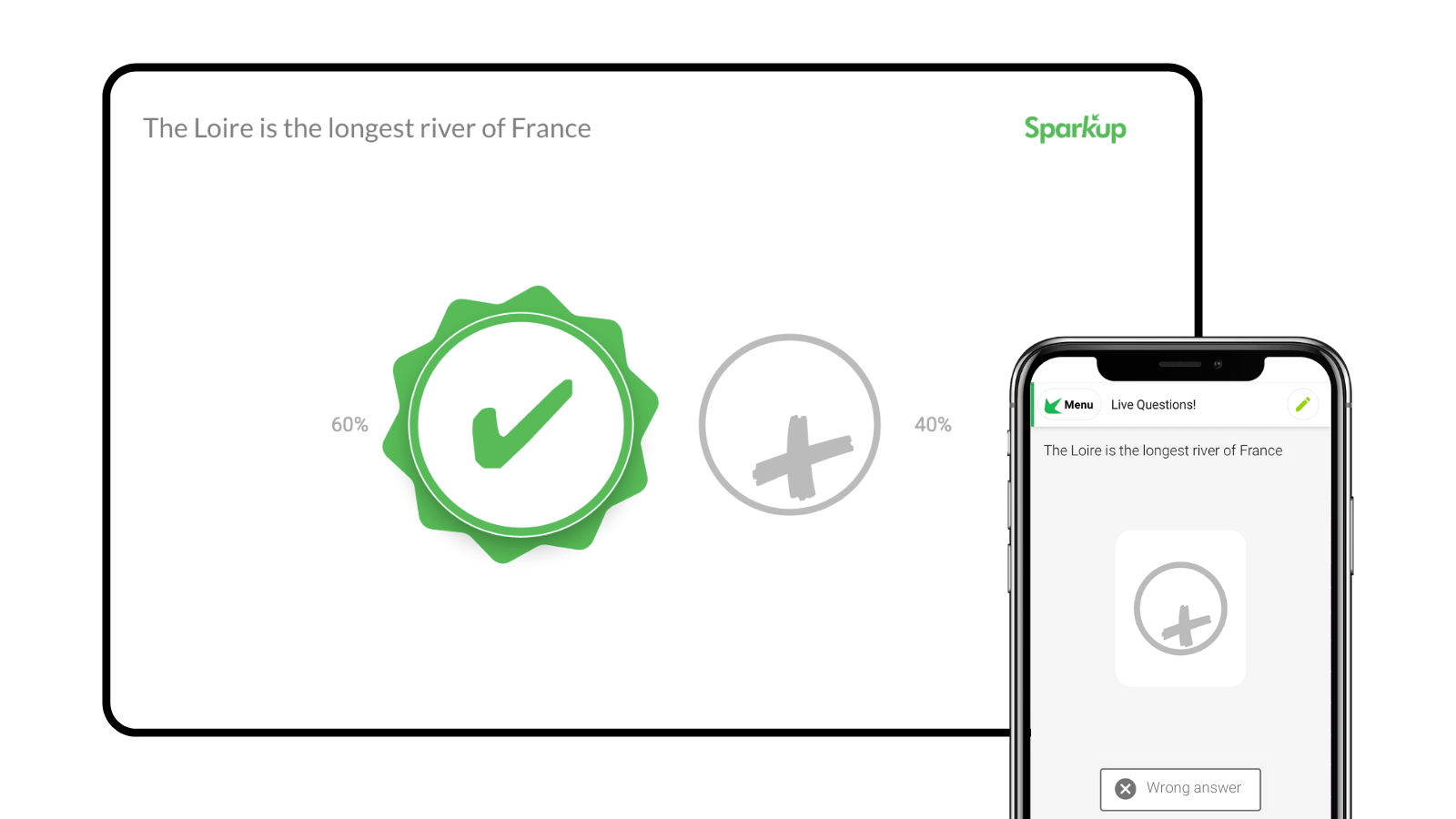 Test your participants' knowledge by asking them to vote True or False.
This is a fun and simple way to check what your participants have learned and to challenge them!
5-star rating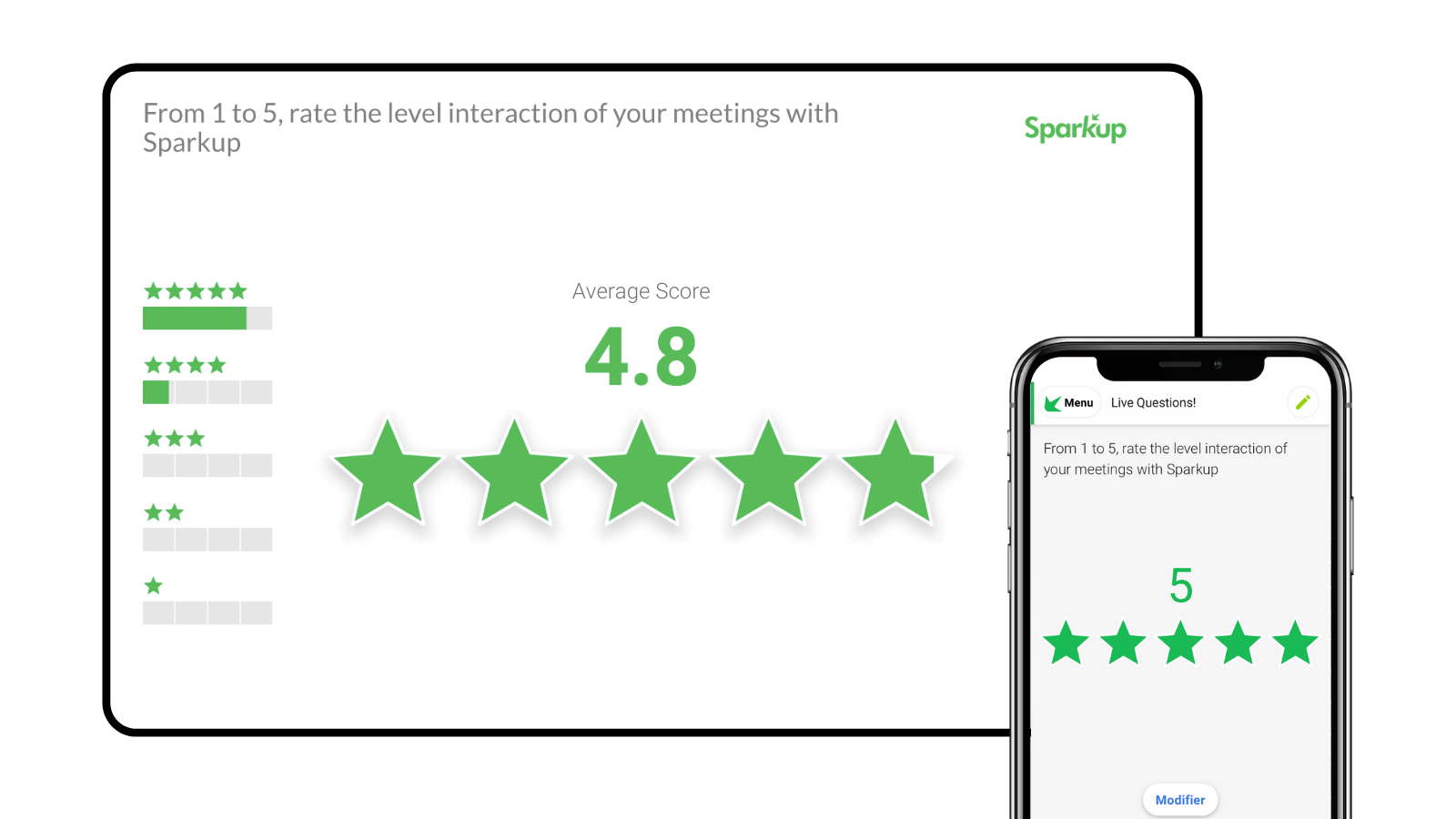 Let the audience rate different criteria on a scale from 1 to 5. This is a fast and useful way to analyze the group's opinion.
Votes and polls in a modernized version!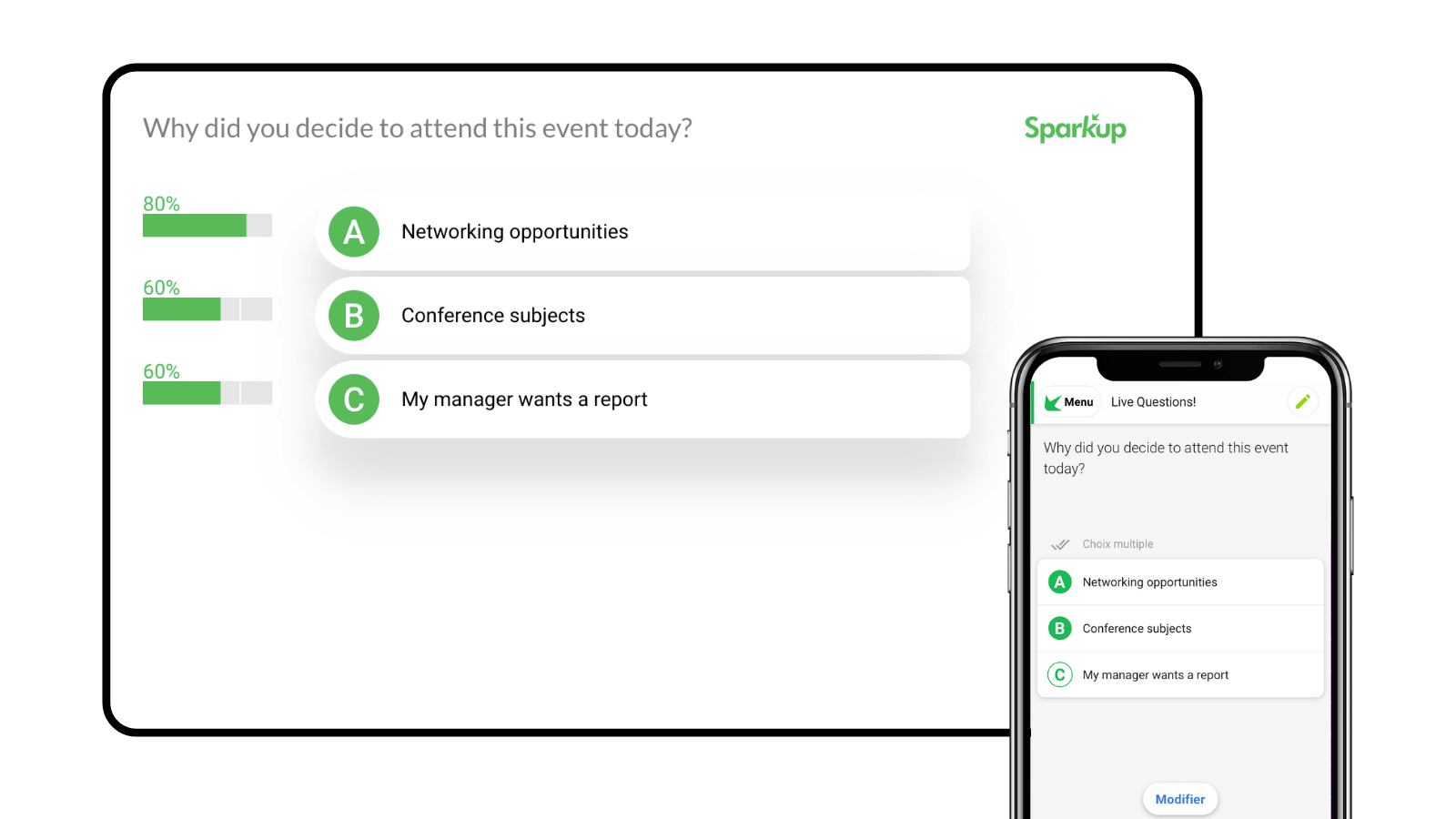 One of our essential activities – Votes – is now available in Live Questions! Plus it has a new compelling modernized look.
Prepare single-choice questions or multiple-choice questions with or without the right answers and ask your audience to answer them directly from your facilitator interface. You will learn more below in the description of the new creation mode.
Dynamic display
Many of our clients expressed a wish and we have carried it out: from now on, as the participants vote, the results on the presenter screen will be updated in real time.
Want to keep the suspense and reveal the results at the last moment not to let your participants being influenced by other's choice? Simply choose to hide the results before displaying them.
We have also included the possibility for participants to modify their vote if they change their opinion. All new question types have this feature. You can see an example below:
Challenge your participants
As you all know, gamification is the main part of Sparkup's DNA. We believe that challenges allow to increase the participation of the audience and make heavy knowledge stick! To make your life easier, you now have the possibility to set up good answers directly in your Live Questions!
At the end of the series of Live Questions! you will see the participants' total score. This is a simple and visual way to test the audience's knowledge.
More simplicity
Live Questions! allow you to ask your audience engaging questions in a fast and very simple way.
You no longer need the Studio to create your questions. Live Questions! is available directly from the facilitator's interface and it allows you to ask your audience spontaneous questions without having to prepare them in the Studio.
We also redesigned the way you play your live polls and quizzes. To make things easier in the menu, your live polls and live quizzes are now grouped along with other question types under the Live Questions icon and can be played by scrolling down from a poll to another. See how in the video below :
Ready to make your next meetings and events more interactive? Try out our Live Questions! activity. Log into your Sparkup account or sign up for a Free trial.