When it comes to event management, audience engagement is an indicator of a successful event: it brings satisfaction, loyalty and motivation.
Hybrid events are a real challenge and increase the necessity to engage, in order to meet the needs of the 2 types of audiences: on-site and online.
In this article, we will give you key information to better understand what engagement really is, and we will share 3 levers to simultaneously engage all of your attendees, whether they are on-site or attending online.
What is engagement?
Everybody talks about engagement… But what is it, really? According to us, engagement can be defined as "unity". When "you" and "I" become "us". It can be people, places, objects, actions: it is a psychological state of unity.
Engagement is an important indicator of the success of an event. Most of the time, it is what makes a difference.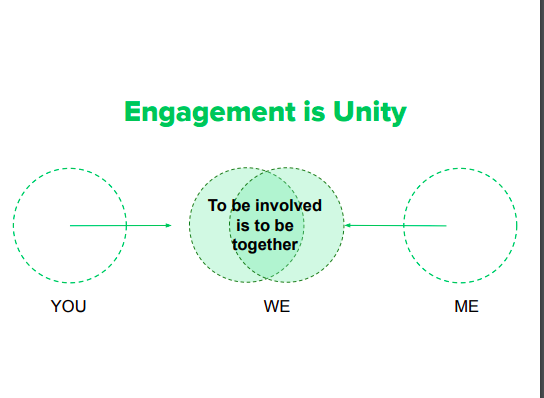 Engagement, the key for a successful hybrid event
Engagement can not be overlooked, because it has the capacity to transform your brand, your content and your brand messaging into a positive memory for your audience.
According to study from the Advertising Research Foundation, engaging events lead to:
an increase of buying intent from 11 % to 52 % during B2C events

a 34 % increase of buying intent during B2B events

a 50 % increase of implementing concrete actions after the event
Studies from Gallup about collaborators engagement also shows that companies with teams with a high engagement rate financially perform 3,5 times better than the others.
On the contrary, non-engaged participants are just showing up and can harm your goals by demobilizing a group.
A high engagement rate is the guarantee that your message has spread and has been heard by your audience, and results in implementing actions in the long term.
Levers to ensure a high engagement
Hybrid events are an opportunity to gather on-site and online attendees. But it also brings challenges, as you are dealing with 2 different kinds of audience who are not experiencing the same things.
But nothing is impossible! Using simple levers and the right kind of technology (interactive videos, picture walls, sound management, etc.) will help you create a real engagement between your audiences (and your speakers), and even maximize it, to create an impactful experience.
There are 3 levers to create a strong chemistry of engagement:
Attention. Your audience has to be captivated and in the expectation of what you are about to say.

Participation. Interact with your attendees to give them the opportunity to be an active participant.

Emotion. Creating emotions and an emotional bond with the audience will help generate engagement.
Strategies can be implemented for each lever to create unity between you and your attendees, we shared all the details in our ebook.
Thanks to the hybrid format, all the participants can be reunited: a real engagement will create value for your different audiences, your sponsors and your brand. It has to be a priority when you're designing your events. Discover our check-list to organize an engaging event in our ultimate guide.